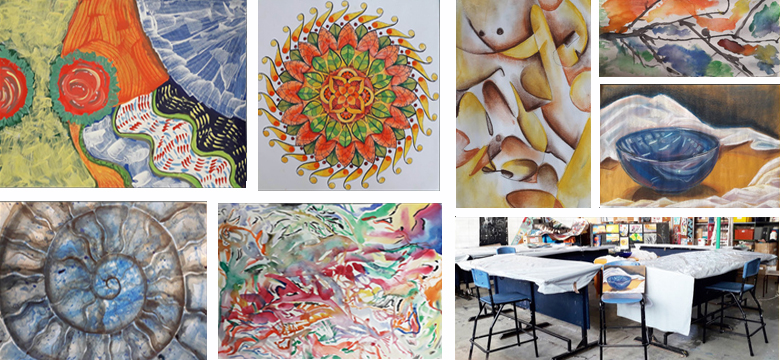 STUDIO EXPLORATION for ADULTS (beginners and continuers all welcome)
PRACTICAL 

 Gain practical media skills in the studio;  techniques & experiments using a range of different media including drawing and painting, graphic techniques, digital art, craft & mixed media, printing and sometimes using natural materials, recycling / repurposing and a lot of imaginative experimentation.


---

STYLES 

 Are you interested in making work that is .... Abstract / Impressionist / Expressionist / Realistic / Stylised / Graphic / Minimalist / you-name-it  ? Do you love landscapes / portraits / nature / dreams / stories / cultural traditions / you-name-it? We aim to build your skills so you can create and interpret things you love in your way. 


---

SOURCES  

 Consider how art can convey a whole range of ideas and inspiration. We will look at various art examples that inspire us, and we analyse how the work has been created. Ideas or themes may come from a range of art styles, cultural and societal sources including traditional and contemporary. In addition to beautiful things we see in the world, art is also embedded in concepts, faiths & beliefs, philosophies, popular movements and issues in the world around us. From these sources we will discover a whole variety of ideas to reinterpret in our own way, and to tell our own stories in the art we create.


---

OUR STUDIO ENVIRONMENT 

cosy numbers and personalised tutoring! Learn at your pace and we encourage peer learning with mixed ability groups. Great conversations !
DATES & TIMES Term 1, 2021 
Please note: ALL 4 of these classes are Studio Exploration sessions. They are open to beginners and continuers and will address all the key elements listed above. We will use various dry and wet media and explore various techniques and subjects.  Fundamental principles apply to all media, so branch out and try something new !
Each incoming class group will get a chance to discuss what they would like to try for the Term.
Four classes to choose from:
---
Morning Classes 10:30 - 1pm
Each 8 week series = $144 
• Tuesday

, 

Feb 9

  - March 30
ª Thursday,

Feb 11 - Apr 1
---
Evening Classes 6 - 8:30 pm
•

Monday,
 Feb 15  - March 29 ( 7 week series = $ 126 )
• Wednesday,
 Feb 10 - March 31 (8 Week series = $ 144)
---
FEES
Full fee series is discounted
OR
Pay-As-You-Go = $20 per session*
P-A-Y-G option is conditional and requires pre-booking and pre-payment
Starter art materials provided 
(conditions apply)

PRIOR BOOKING required for all classes.